Image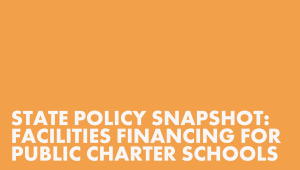 State credit enhancement programs can provide effective, low-cost financing support for charter schools seeking to reduce costs for facilities financing. This is the third report in a series of State Policy Snapshots for Public Charter School Facilities, exploring credit enhancement policies that states are utilizing to help charter schools achieve more favorable financing conditions for their acquisitions. 
While the federal Credit Enhancement for Charter Schools Facilities Program is widely known in the charter school community, there is significantly less information about the state programs. The purpose of this paper is to provide the charter school community and policy makers with a more complete picture of the credit enhancement that may be available to charter schools. 
The first two reports, State Policy Snapshot: School District Facilities and Charter Public Schools in September 2016 and State Policy Snapshot: Facilities Funding for Public Charter Schools in July 2019 address the critical issues of accessing facilities and securing funding for facilities. This third report addresses the issue of financing the facility.