Image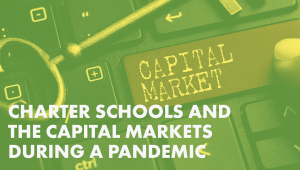 Charter schools are changing their operations and finances as they look to borrow money or to repay existing debt. The National Alliance's Charter School Facility Center will host a webinar on Wednesday, April 29, at 1 p.m. ET, featuring a panel discussion with capital markets experts, including underwriters, debt advisors, credit experts, and charter school leaders to discuss charter schools and the capital markets reaction to the COVID-19 crisis.
Click here to view and download slides.
Click here to view the recording.
We'll examine the following topics:
How capital markets are reacting to the health crisis
What this might mean for charter school access to capital 
How proactive charter school leaders manage operational and financial risks 
Best practices for communicating with key stakeholders in this uncertain time
Confirmed panelists include:
Laura Kozel, Vice President of Capital Finance at Rocketship Public Schools
Greg McKenna, Managing Director of Public Finance Investment Banking at BB&T
Kevin Quinn, Principal at Wye River Group
Liz Sweeney, President at Nutshell Associates and former Managing Director at S&P Global Ratings (Moderator)