Image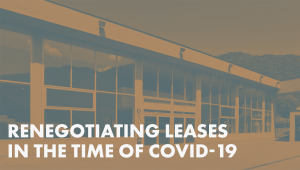 COVID's impact has caused unprecedented financial uncertainties and operational challenges for charter schools across the country.  Many charter operators and Boards may be considering revisiting all potential financial levers, including real estate obligations, to stabilize and support healthy operations moving forward.  
This session is geared towards supporting operators in leased facilities who may want to consider the viability of renegotiating current lease term, and will provide participants with an overview of reasons to consider renegotiating a lease, factors to research and consider before entering a negotiation, levers and scenarios that could influence a specific outcome and considerations for the "best approach" to a Landlord. Panelists include:
Sara Batterton, Independent Consultant/Former Acting COO/VP Real Estate & Facilities, Uncommon Schools 
Lisa Desfosses, Managing Member, i+c consulting / Former Deputy CFO and VP of Facilities and Capital Finance
Lisa Holtzmuller, Of Counsel, Barton Gilman LLP 
Click here to view and download slides.
Click here to view the recording.
Categories
Access, Fund, School Leader Resources