Presenters
Laura Fiemann, Charter Schools Development Corporation
,
David Leahy, Turner Impact Capital
,
Dru Damico, Building Hope
,
Mark Medema, Charter School Facility Center (moderator)
Image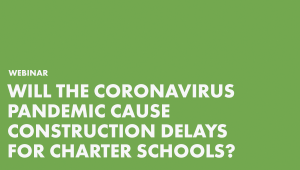 As the COVID-19 pandemic continues to create day-to-day challenges for schools and families around the country, many charter schools must continue to pursue long-term construction plans to ensure their students have safe buildings to return to when schools open. 
Join us for a webinar to discuss how the coronavirus may affect charter school construction and learn strategies to protect your school from the consequences. Presenters will share what they are seeing in the field and answer questions such as:
Will projects happen? Is construction essential?
How can we follow the Occupational Safety and Health Administration's (OSHA's) guidance and what constitutes Force Majeure?
How will projects change? How can we manage disruptions in construction and the supply chain?
Will we get a Certificate of Occupancy and what does a back-up plan look like?
What are best practices in project management and communicating during a crisis? 
Please click here to view the recording