Image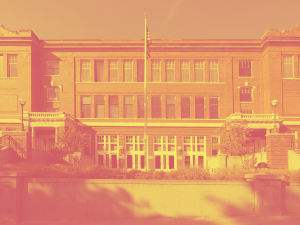 The last 25 years have changed the way we think about our public schools. Families were once told where to send their children. Today, we see a variety of options for families – they have their traditional district community schools for whom the vast majority of families attend. Nowadays, we also have community-wide, open-enrollment schools, specialized schools (such as magnet schools, STEM schools and schools for the arts), schools within schools, and open-enrollment, charter schools. This variety has changed the landscape of what communities need in school buildings and their locations throughout our neighborhoods. For cities and towns with growing populations, there is simply the need for more school buildings . For cities and towns with declining student enrollment, there is the need to more effectively manage school buildings.
The education community can learn from other social sectors about how to plan, identify, finance, and preserve options for these buildings. The concept of land trusts and real estate trusts has been used by cities for centuries for health care, affordable housing, open space, and higher education. Pathway 2 Tomorrow recently published the Center on  Reinventing Public Education's (CRPE) report, A More Enterprising Approach: How Public Trusts Can Help Address School Facility Challenges, that highlights ways cities can manage school properties through a citywide real estate trust. These trusts can be independent agencies or non-profits that manage a city's educational facilities tasked with the responsibility of ensuring that community schools can afford to stay in the communities they serve; that these schools can focus on serving the young people in communities.
The paper builds upon two other reports from earlier this year which show how school buildings can be built, financed, and managed so that both schools and communities thrive. The research team at Public Impact, in their paper, Charter School Facility Incubators—An Innovative Approach to Charter School Facilities, looked at one non-profit in Washington, DC that acts as an incubator to help start new schools that would not be able to secure their own building. This entrepreneurial model is borrowed from the technology sector where so many tech start-ups begin instead of the garages of the 80's or working out of a successful tech company that itself was a start-up a few years earlier. Several schools have successfully started and are serving young people in their community through this innovative program.
The National Alliance for Public Charter Schools, in their paper, Community Land Trusts and Charter Schools, looked at how Community Land Trusts can support individual schools like how they have ensured affordable housing for decades. These entities are managed by the community and the community can decide who should use the property—whether that is housing, health and wellness, education, or other critical hallmark of communities. This is a throwback to the way education decisions were made in the beginning of our country.
This spectrum of trusts shows that the new paradigm of public school choices, which has a variety of school building models, can be managed very differently than the old school district model of yesterday. Empowering communities with the decisions can provide more transparency and accountability to the way school buildings are managed and built, and ultimately how to use limited space within growing cities for the needs of the community.
Too many old empty buildings sit empty, mired in politics. Too many community-focused organizations spend their limited dollars on buildings and real estate, instead of being able to focus on the community.
It's time to let the community members be involved in the decisions about their community needs, from housing, to health, to education. Let's trust them with school building trusts.